Our first official tour is in the books, and holy forking shirtballs was it an epic one. We were only out for ten days but it felt like it went by in thirty minutes, or maybe two months, who knows. I could not be prouder of my bandmates for pulling it together and rocking the everloving fuck out of an eight-show run with just ONE tech rehearsal and ONE full band rehearsal prior to hitting the road. I fucking love these people.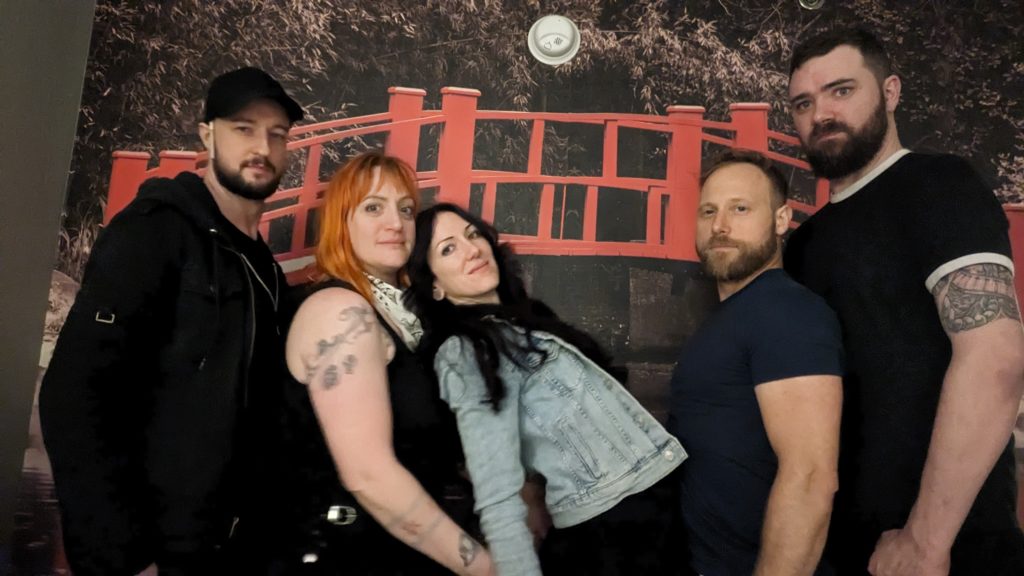 Huntsville was a scramble as we packed up from the aforementioned single rehearsal to drive straight to the club. We plowed through some tasty noms from Maggie Meyer's Irish Pub before we hit the stage for our first set of the tour. It went great and we played alongside three really fun bands: Impossible Machine, The Golden Flakes, and Soul Karnival. It was the perfect start to this run: everyone from the venue staff to the other bands to the bar regulars was kind and fun to hang out with.
We even met the requisite Gross Old Man At The Bar who paid our tab as if it were some excuse to be creepy. Par for the course when you dare to be a woman in music! No, sir, I will not kiss your cheek for a Coors Light. Middle aged men: please stop doing this.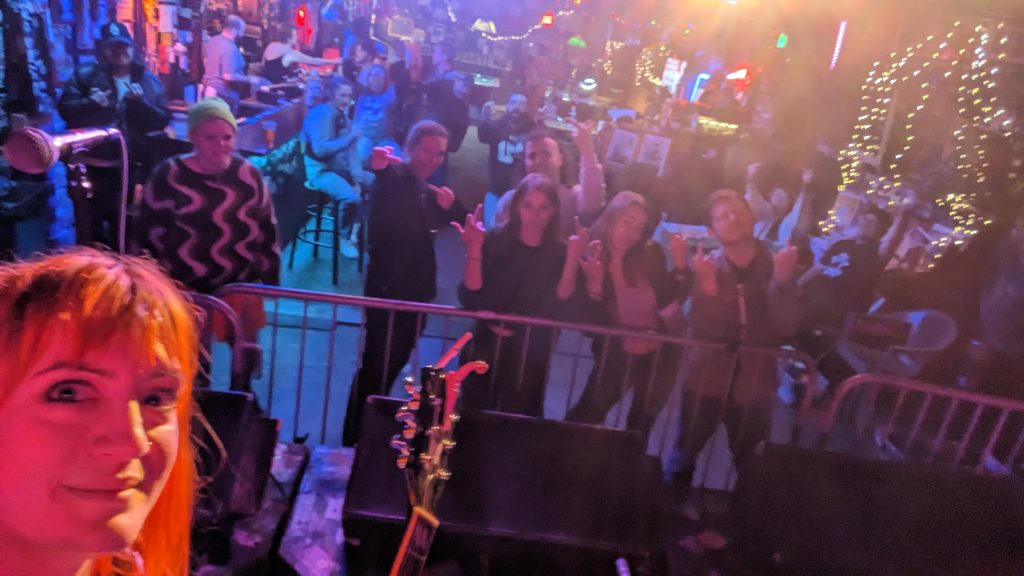 Birmingham was a little rockier than the first night. We started the afternoon with fucking delicious sloppy food and hip hop air horns courtesy of Slutty Vegan before we were off to the venue. Brief nap at the hotel before we headed to The Nick, one of my favorite venues in the Southeastern U.S. The venue staff was stellar to us, from the bartenders to the sound guy. I battled an anxiety attack on stage which ended in a degrading-but-necessary stage hug from guitarist Marsden (thanks bud), but we pulled through the set and sold more merch than any other show on tour. We played with Zyx, a fun glam rock band from Atlanta, and the Sick Fucks, who are Runaways-vibe rock & roll.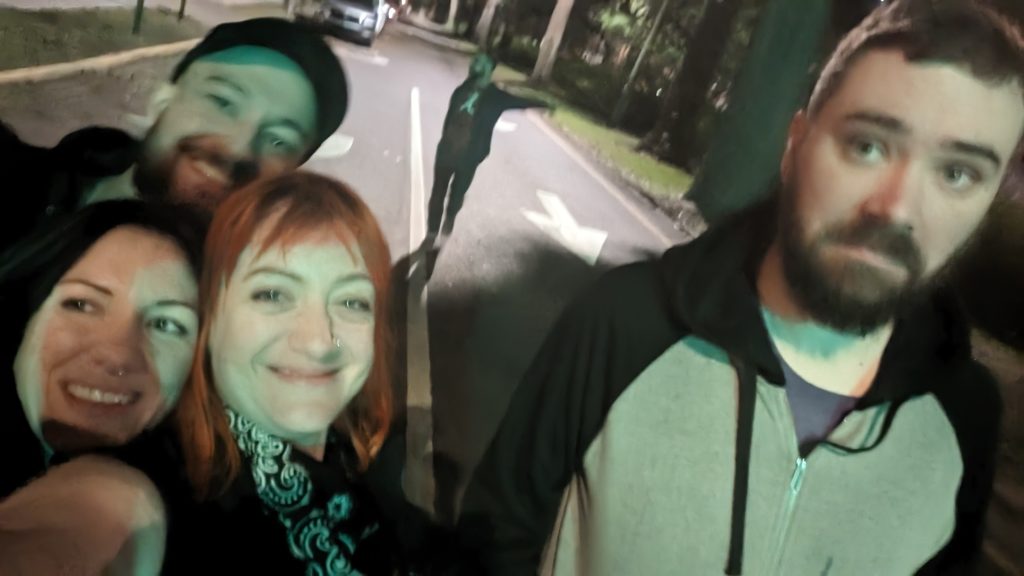 Sunday was our off day because god canceled our show in Atlanta for putting out "Taking You To War," so we fucked around in Savannah for a night — after a brief detour because coughsomeonecough forgot their pedal board in the hotel on the first night and we had to double back to Huntsville.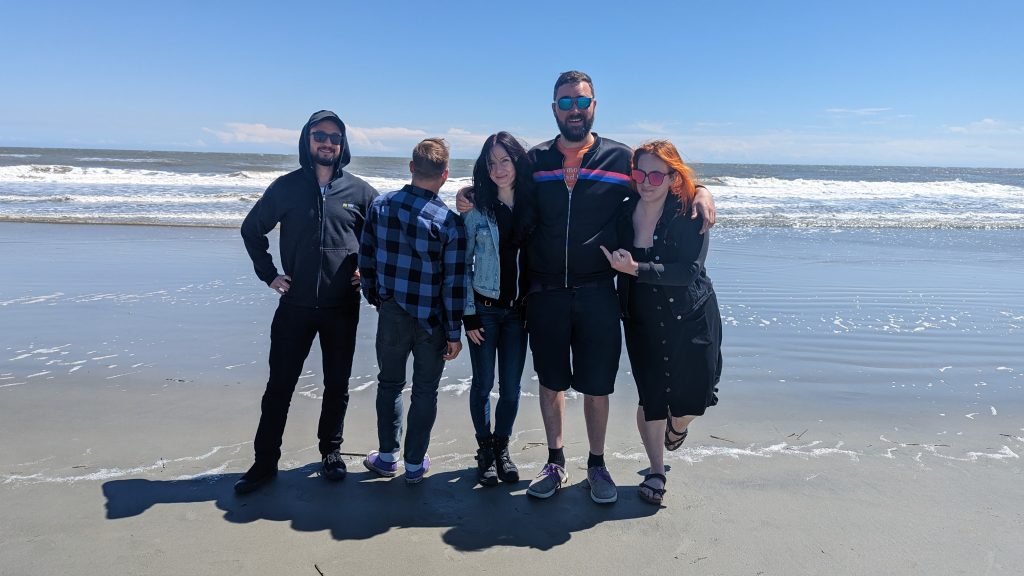 Monday was my favorite show of the tour. We played Tin Roof in Charleston with Sandcastle and Dishwasher Fish who was Jay Van Raalte & The Spectrum in disguise (and who we're playing with again in Nashville in July!). Even though we had a modest crowd of maybe 15-20 people, they were all super engaged for every band. Turns out I knew the bartender from my past life in Chicago, so that was a trip.
Our original idea for a cover song hadn't really landed at the first two gigs, so we worked up "Zombie" by the Cranberries in the car to replace it — one guy at the bar told us he stayed for our set specifically because he heard it when we soundchecked with it to practice, so I think we made the right choice.
The set was a blast and a much-needed recovery from the shaky show in Birmingham. We got to stay with our awesome friend Laurlyn (also a killer musician — click on her name) and her snuggly loaf of a dog Dooley, and she took us to the beach the next day because we are good kids that get to go to the beach sometimes.
Tuesday was Augusta, GA. The club was called Soul Bar. It was neat and downright strange in some ways (as in: we played our entire set facing this wall but the bar was HUGE), but the show went well and we made some new friends. A very, very drunk man thought we were the best ever and danced for the whole set. Dandeli opened for us with their spooky & ethereal electro pop set.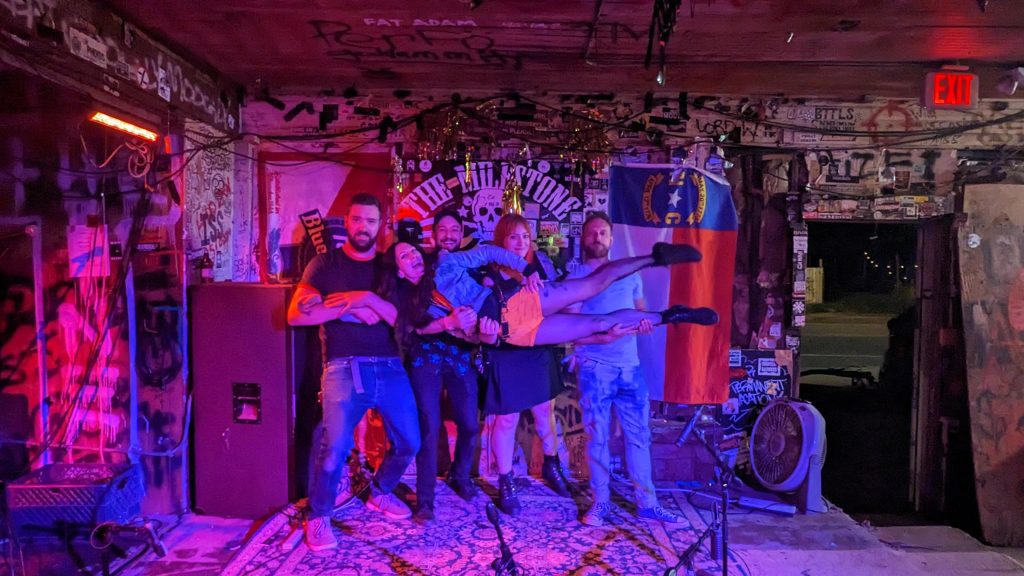 Wednesday was Charlotte at the legendary Milestone. Another sparsely attended show, but the set went well and the other bands on the bill were really good. Yet another night of great sound and really friendly staff. I got a little misty-eyed when the lead guitarist for A Life Worth Taking hopped off stage to solo during the last song of the night because his energy reminded me so much of Derek. Jackson Fig and The Sour opened for us and were both fun and pro as fuck. Check them out.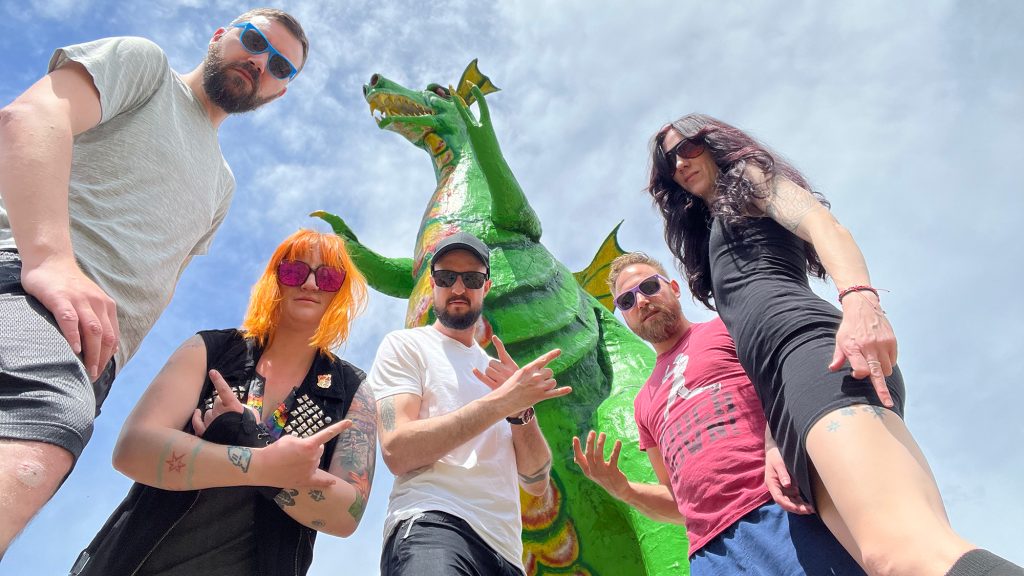 Thursday we played Pres Pub in Knoxville, which is the kind of gig where you expect to get a bottle thrown at your face while you play, but we got the women in the crowd dancing as we always do and our set went great despite some hilarious dead silence after we sang our anti-god anthem. Afton Wolfe played after us and damn is his band tight. Hoping we can set something up with them in Nashville since they're from here, too. Also we met this giant dragon on the way out of town.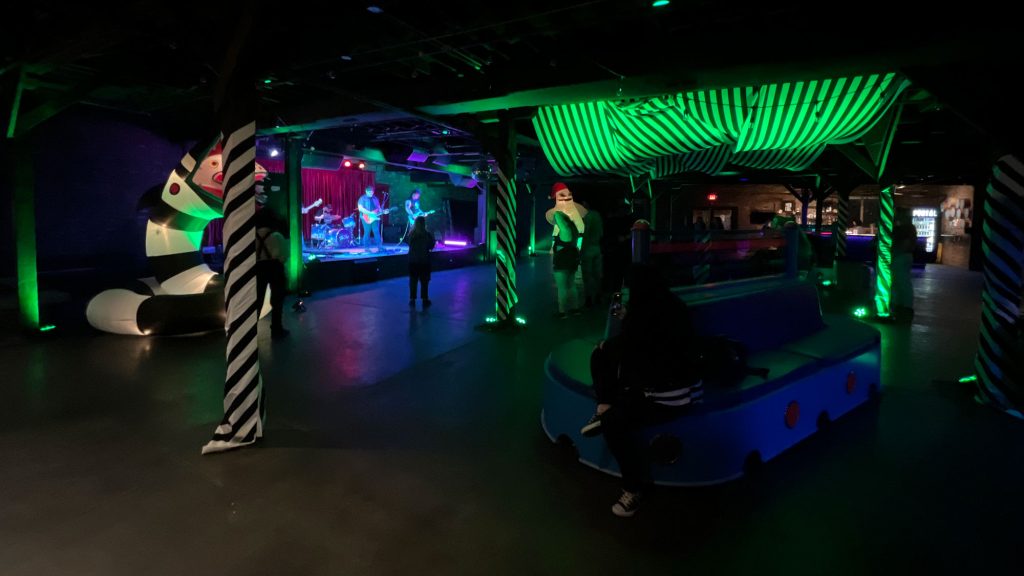 Friday was hands-down the coolest gig of the tour at Portal in Louisville. Black Rainbow Records put on Burton Fest, complete with giant blow up stripy snakes, a costume contest, spooky gourmet baked goods from Chef Terror of Fright Bites, and a badass DJ named Corey Borealis. We played alongside our friends The Dead Speak and new pals The Okay, both of whom killed it. The Okay even played a Cranberries cover to match ours, so of course Kerri and I wrecked our voices by screaming along.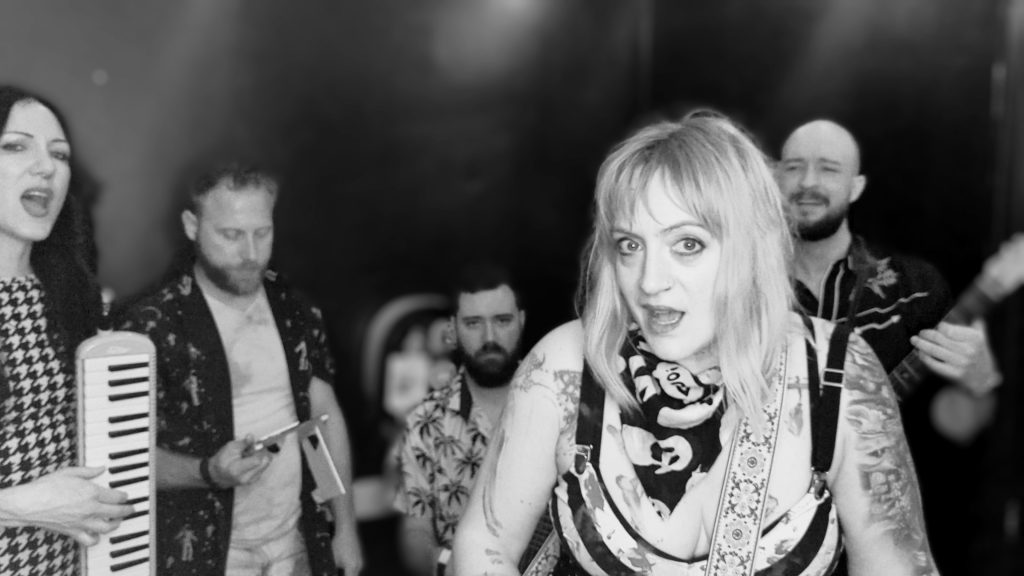 Saturday was our homecoming show in Nashville at The East Room. It was awesome to see a bunch of familiar faces after an extended week on the road, and every single band was absolutely incredible. Hussy Fit opened the night with their synth-driven riotgrrrl rock, then Ricki and The Low Blow closed it out with some absolutely epic tunes. We couldn't have had a more fun and musically perfect final show of this tour.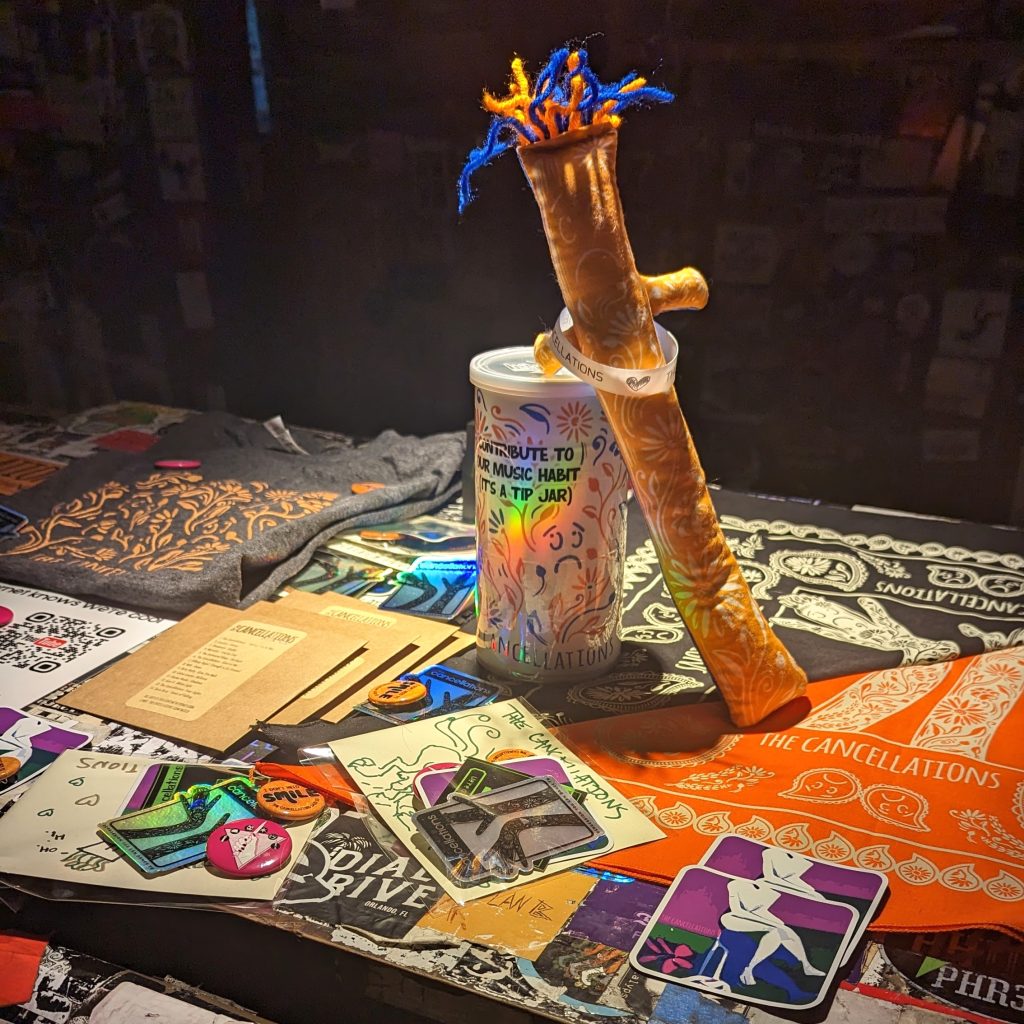 I cannot wait for June when we hit the road with these wonderful people again — and also with fiddler Sarah in tow! The summer tour will be the very first time all six of us are on stage together, and I am fucking pumped.
We still have some merch left over from the tour so I'll be throwing that up on the webstore in the next few days. We still have a few mix CDs left, so every order will get one of those, too (until we run out).
Oh! And one last thing… Gary. Gary. Gary. Gary. Gary. Gary. Gary. Gary.